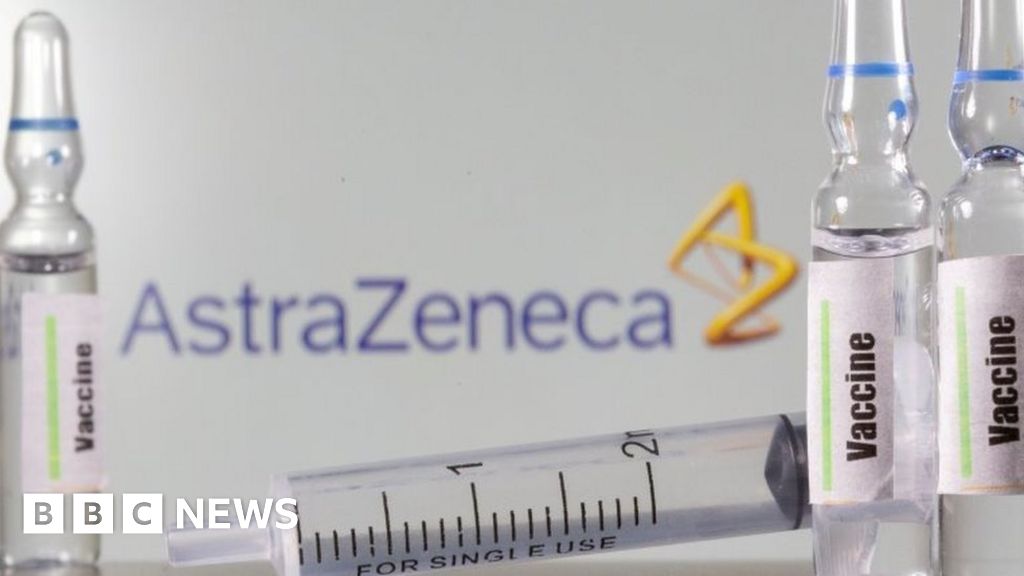 [ad_1]

The EU has warned it will tighten exports of Covid vaccines produced in the bloc, amid a row with AstraZeneca over a cut in planned supplies.
Last week, AstraZeneca told the EU it was falling behind on its supply target because of production problems.
Vaccine supply has become a critical issue as nations seek to stem high infection rates.
The AstraZeneca row could affect supplies to the UK of the Pfizer-BioNTech vaccine, which has been developed by the US and Germany. Pfizer's Belgian plant supplies the UK.
Responding to the EU's comments, the UK's Minister for Covid Vaccine Deployment Nadhim Zahawi said on Tuesday that supplies were "tight" but added: "I'm confident that [AstraZeneca and Pfizer-BioNTech] will both deliver for us the quantities that we need to meet our mid-February target and of course beyond."
EU Health Commissioner Stella Kyriakides had earlier said the 27-member EU bloc would "take any action required to protect its citizens".
Companies making Covid vaccines in the EU would have to "provide early notification whenever they want to export vaccines to third countries", she said. The UK has now left the EU.
Mr Zahawi warned against what he called "the dead end of vaccine nationalism", adding: "No-one is safe until the whole world is safe."
The EU has already faced criticism for the slow rollout of vaccines, which it buys on behalf of all member states.
What will the EU do now?
"EU member states are united: vaccine developers have societal and contractual responsibilities they need to uphold".
Ms Kyriakides said the EU had requested "a detailed planning of vaccine deliveries", and the next meeting with the company would be held on Wednesday.
Discussions with @AstraZeneca today resulted in dissatisfaction with the lack of clarity and insufficient explanations. EU Member States are united: vaccine developers have societal and contractual responsibilities they need to uphold.

— Stella Kyriakides (@SKyriakidesEU) January 25, 2021
German Health Minister Jens Spahn said it was right to know what was being produced in the EU, what was leaving and whether distribution was fair.
"This is not about EU first, this is about Europe's fair share," he told ZDF television.
AstraZeneca, a UK-Swedish multinational headquartered in England, said it was "doing everything it can to bring its vaccine to millions of Europeans as soon as possible".
Why the problems with AstraZeneca?
Its vaccine, developed with Oxford University, has been approved in the UK and inoculations are already under way there.
It has not yet been approved by the EU, although the European Medicines Agency (EMA) is expected to green light it at the end of this month.
The bloc did sign a deal in August for 300 million doses, with an option for 100 million more. The EU had hoped that, as soon as approval was given, delivery would start straight away, with some 80 million doses arriving in the 27 nations by March.
The AstraZeneca vaccine for Europe is mainly produced in the UK, although other sites on the continent are involved in manufacturing the jab.
Last week, AstraZeneca said "reduced yields at a manufacturing site within our European supply chain" meant the number of initial doses for EU member states would be lower.
Officials have not confirmed publicly how big the shortfall will be, but Reuters reported that deliveries would be reduced to 31 million – a cut of 60% – in the first quarter of this year.
An AstraZeneca partner plant in Belgium involved in "viral vectors" – the delivery of genetic material into cells – is thought to be the problem.
But one German EU lawmaker, Peter Liese, told Reuters the statement that there were difficulties in the EU supply chain but not elsewhere was "flimsy" and there should be "no problem to get the vaccine from the UK to the continent".
The Serum Institute of India also produces a large amount of AstraZeneca jabs, but has no immediate plans to divert to the EU.
Other nations, including Australia and Thailand, have said they have also been told of a drop in AstraZeneca supply.
How is the EU drive affected?
The AstraZeneca reduction is a serious blow in the wake of Pfizer-BioNTech's statement.
Pfizer-BioNTech said last week it was delaying shipments for the next few weeks because of work to increase capacity at its Belgian plant.
The EU has ordered 600 million doses of Pfizer-BioNTech, which is already being used on patients around the bloc.
The delays could cast serious doubt on European Commission chief Ursula von der Leyen's pledge to inoculate 70% of adults in the EU by the end of August.


[ad_2]

Source link