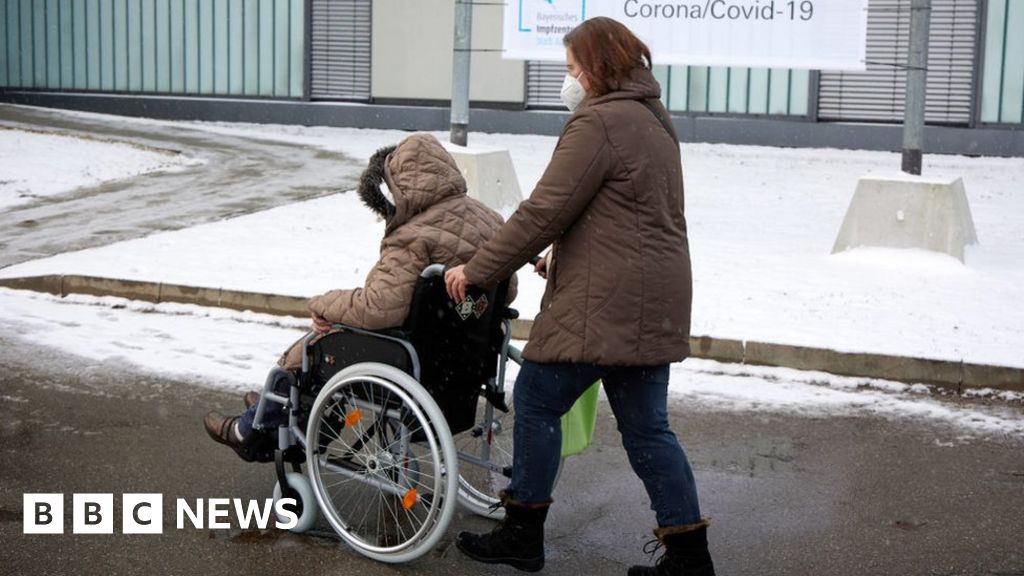 [ad_1]

Germany's health ministry and AstraZeneca have rejected German media reports on Monday that cast doubt on the effectiveness of the drug-maker's vaccine in the elderly.
AstraZeneca, a UK-Swedish company, described the reports as "completely incorrect" while the health ministry said key data had been misreported.
The media reports quoted anonymous German government sources.
They come amid tension between the EU and AstraZeneca over vaccine supplies.
German Health Minister Jens Spahn has called for "fair distribution", and UK Vaccine Minister Nadhim Zahawi warned of "the dead end of vaccine nationalism".
What did the reports say?
The reports emerged in Handelsblatt, a respected financial daily, and the mass-circulation Bild, quoting sources within Germany's governing coalition.
Germany and the wider EU are relying on millions of doses of the AstraZeneca product, alongside the BioNTech and Moderna vaccines, to fight the coronavirus pandemic.
Handelsblatt reported that the German government was working on the basis of only 8% efficacy among those over 65, compared with over 90% for the other vaccines.
The AstraZeneca jab is expected to be approved by the EU's medicine's regulator, the EMA, in the next few days. But Bild suggested that it may not be approved by the EMA for use in the elderly.
How did AstraZeneca and the German government respond?
The German health ministry said on Tuesday that it "appears two things have been mixed up in the reports" and that 8% actually referred to the number of volunteers of a certain age taking part in the study – not the efficacy rate.
"Around 8% of the volunteers in AstraZeneca's efficacy studies were between 56 and 69 years old and 3-4% are above 70 years old," said the ministry in a statement.
"However, this does not mean that it is effective only in 8% of older people."
The statement also notes that "fewer older people were involved in AstraZeneca's first studies than in those of other manufacturers".
Health Minister Spahn, interviewed by German radio, refused to be drawn on what he called "speculation" and said he would await the EU regulator's decision.
AstraZeneca said: "Reports that the AstraZeneca-Oxford vaccine efficacy is as low as 8% in adults over 65 years are completely incorrect."
In November, the firm had published data in the leading medical journal The Lancet "demonstrating that older adults showed strong immune responses to the vaccine, with 100% of older adults generating spike-specific antibodies after the second dose".
Full trial data in December showed the vaccine was 70% effective in all adults, and it was approved for use by the UK's MHRA regulator.
A spokesman for the UK prime minister, speaking after a cabinet meeting, said the Chief Scientific Adviser Sir Patrick Vallance had "set out that the Oxford/AstraZeneca vaccine remains both safe and effective and that the trials showed similar immune responses in both younger and older adults".
[ad_2]

Source link