[ad_1]

Police in a Minneapolis suburb said an officer accidentally shot and killed a 20-year-old Black man on Sunday afternoon during a traffic stop, releasing graphic body-camera footage they say shows the officer intended to use a Taser not a handgun during the death of unarmed Daunte Wright.
The incident plunged the suburb of Brooklyn Center into a night of unrest as Minneapolis remains on edge during the murder trial of former officer Derek Chauvin over the death of George Floyd. Hundreds of protesters clashed with police in riot gear who deployed teargas and flash bangs to disperse the crowds.
At a press conference inside Brooklyn Center police headquarters, surrounded by riot police and national guard troops, the police chief, Tim Gannon, described the shooting as "an accidental discharge" and confirmed no weapon had been recovered from Wright's vehicle.
The county medical examiner has ruled the death a homicide.
The mayor of Brooklyn Center, Mike Elliott, said he had spoken to Joe Biden, who offered assistance.
"I want to say that our hearts are aching right now," Elliott told reporters. "We are in pain right now. And we recognise that this couldn't have happened at a worse time.
"We will get to the bottom of this. We will do all that is in our power to make sure that justice is done for Daunte Wright."
Elliott also said he supported firing the officer involved, who was later identified as Kim Potter, a 26-year veteran of the Brooklyn Center police department.
Protesters returned to the streets again on Monday evening, despite a 7pm curfew imposed by the governor of Minnesota. Hundreds of people gathered in the cold and rainy weather outside the Brooklyn Center police department, which was ringed by a metal fence, concrete barriers and police dressed in riot gear. Police later deployed flashbangs, teargas and smoke to disperse the crowd.
Earlier in the day, mourners and outraged community members had made their way to the site where Wright was killed. On a grey, damp morning, Ben Witz and his sister came to the site to lay balloons.
"This is more difficult because there was another, there was another unarmed shooting," Witz said, explaining that family members lived in the area and that the community was still traumatized from Floyd's killing and the unrest that followed.
"It seems like it's a common occurrence now with the police," Witz said. "It's crazy what's happening. It really is."
According to Brooklyn Center police, the incident occurred shortly before 2pm, when an officer pulled over a vehicle due to an alleged traffic violation.
The body-camera footage showed Wright being apprehended by two officers, when a third female officer approaches the scene. A struggle ensues and Wright gets back into his vehicle, at which point the female officer opens fire.
"Holy shit. I just shot him," the officer is heard saying.
As the body-camera footage was released, a small group of activists in the police headquarters waiting area demanded the officer, who has not been identified, be fired immediately.
"Seeing the video just confirms what we already knew," said Toshira Garraway, the founder of Families Supporting Families Against Police Violence. "It's just killing after killing after killing."
She added: "They will always say, 'I was afraid, or it was an accident.' But the fact of the matter is: this was a murder. If she is not fired, this is only going to escalate."
Wright's mother, Katie Wright, told reporters she was on the phone with her son as the encounter occurred. According to her account, reported by local TV news, her son called as he was being pulled over and asked about insurance for the vehicle, which she had recently given him.
She said she heard officers instruct her son to get out of the car and then "scuffling" shortly before the phone hung up.
"A minute later, I called and his girlfriend answered, who was the passenger in the car, and said that he'd been shot and she put it on the driver's side, and my son was laying there lifeless," she said.
Police said officers determined the driver had an outstanding warrant.
Heavily armored national guard troops worked to barricade the police station on Monday morning, as fewer than a dozen protesters faced the building across a road.
Two national guard Humvees, guardsmen carrying long guns and dozens of officers in riot gear were outside the station as police installed concrete blocks. A couple of members of the Original Black Panthers of Minneapolis group chatted with state troopers.
Witz, 40, a liquor store employee, said he was concerned the business would be vandalized if protests over Wright's killing led to major unrest.
"It was like a war zone," Witz said of the unrest that followed Floyd's death. "And now we're seeing it here and, I mean, why do we have to vandalize, I mean, I, as a white person I don't get it, but I want to be educated."
On Sunday evening, hundreds of protesters marched to the police station and were met by officers in riot gear who discharged teargas, flash-bangs and other munitions. Crowds had largely dispersed by midnight.
The Minnesota department of public safety commissioner, John Harrington, said around 20 businesses at the Shingle Creek shopping center were broken into. The mayor, Elliott, urged protesters "to be peaceful and that peaceful protesters are not dealt with force".
Brooklyn Center is a suburb in north-west Minneapolis with a population of about 30,000. Tensions are high as the murder trial of Chauvin entered its third week.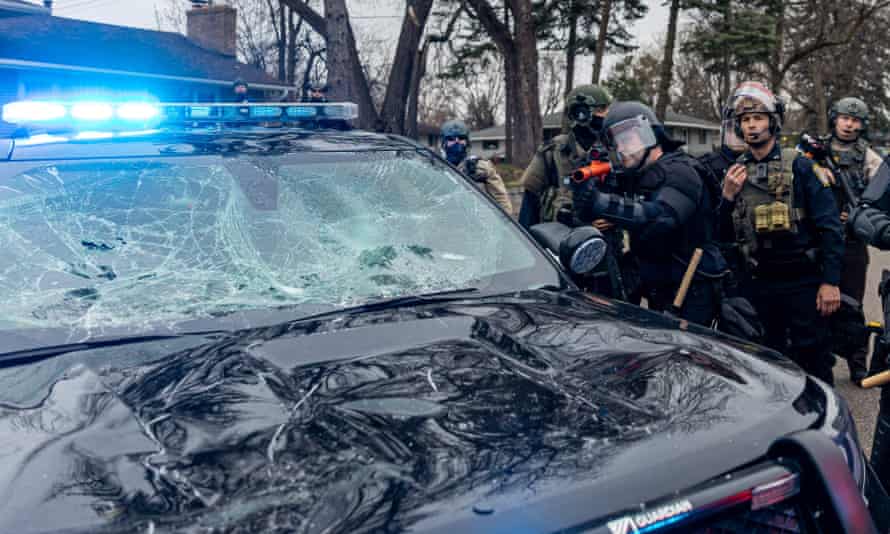 Amid drizzle and grey skies on Monday, protesters such as Bethany Hemrich came to pay her respects near the site where Wright had been shot dead less than 24 hours before.
"As a mother of a Black child, I couldn't even fathom," Hemrich, who is white, said. "My son is 10, and I brought him to [the] George Floyd memorial and had to explain racism to him."
As her voice broke, she continued: "They didn't have to kill him. I feel like if it was a white person, they wouldn't have shot him."
Quinn Redeemed, 46, spoke of the tension in the area around police-involved deaths of Black people.
Redeemed said: "This just added gasoline to the fire. We're tired and fired up. The world needs to really see what's going on. And now, the world is watching Minnesota."


[ad_2]

Source link