[ad_1]

04:33
The Labour Party has called for a thorough investigation into lobbying in the UK government, amid a series of high profile lobbying scandals linked to coronavirus contracts in recent months.
What's the background?
This week, health secretary Matt Hancock came under fire for reportedly waiting two months to declare his shares in a firm which was approved for NHS contracts.
Meanwhile, former prime minister David Cameron has been criticised for lobbying contacts at the treasury for a firm for which he was a senior adviser with share options reportedly worth $60 million.
What do Labour want?
Speaking on Sophy Ridge's Sky News programme, Labour's shadow communities secretary said the government needed an "open inquiry" into lobbying.
"What we need is an open inquiry and not one where the Conservatives are marking their own homework because Boris Johnson has shown repeatedly over the past year that he is not interested in exposing what is going wrong or stopping what's going wrong," Steve Reed said.
"If we have an independent parliamentary inquiry into what's going on, open and transparent – and in David Cameron's own words, sunlight is the best disinfectant – let's expose this whole situation to sunlight, let's see exactly what's going on, let's pull in everybody to public hearings that the public can see as well as MPs and find out what's going on and let's put in measures that prevent it from occurring."
"One of them might well be that the Prime Minister should not be the person who decides whether there are investigations into his own ministers for breaches of the ministerial code.
"Perhaps an independent person should be doing that so the Prime Minister can't be accused of covering up wrongdoing by his own ministers."
04:23
No evidence the Indian variant is more contagious or more resistant to vaccines, minister says
Eustice said there is no evidence that the Indian variant of coronavirus is able to "get around" the vaccine, or was more contagious than other variants.
The environment secretary also said that cases of the variant were "fairly small" at present.
"The last I think I saw… there were around 70 cases. But I think I've seen lots of different numbers on different variants… so it is a fairly small number at the moment. But it is something that we are watching," Eustice told Sophy Ridge's Sky News programme.
"I'm told that there is no evidence at the moment that this particular variant is able to get around the vaccine, for instance, or indeed that it is necessarily more contagious than the others."
Updated

04:13
Israel is today ending its outdoor mask-wearing rule and reopening middle schools, in the country's latest step towards normality.
The country has had a highly successful vaccine rollout, with 54% of its 9.3 million population having received both shots of the Pfizer/BioNTech vaccine, and has recorded sharp drops in the spread of the virus.
Despite the end of the mask-wearing mandate outside, citizens must still wear face coverings indoors.
Israeli kindergarteners, elementary and high schools were already open, but Sunday marks the reopening of middle schools.
04:10
The environment secretary George Eustice has defended health secretary Matt Hancock over his ownership of shares in a company which was approved as a potential supplier for the NHS.
This week, Hancock came under fire for failing to declare his interest Topwood to parliamentary authorities for more than two months, and never previously mentioning his family's longstanding involvement with the firm.
Topwood won a tender competition to get approval as a contractor for the NHS in Wales in early 2019. At this time, the firm was owned by Hancock's sister and other family members.
Speaking on Sky News on Sunday morning, Eustice said there was "nothing wrong with ministers having financial interests and declaring them".
He said that Hancock's involvement in Topwood was only public knowledge because he had declared it, and that Hancock had not been involved in any decisions on procurement – removing the conflict of interest.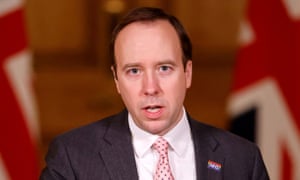 03:38

Molly Blackall
Hello everyone, and welcome to our coronavirus live blog. I'll be sharing key breaking news updates about the pandemic in the UK and around the world.
If you spot something you think we should be reporting on in this blog, please feel free to send me a message on Twitter. Tips and pointers always appreciated!


[ad_2]

Source link